Timothy L. Hodges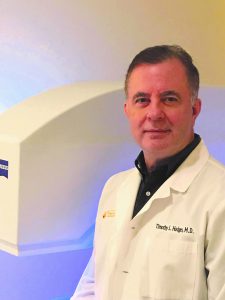 Specialties
Refractive Surgery, including SMILE
Cataract Surgery
General Ophthalmology
Timothy L. Hodges has served in the Army's Flight Surgeons Corp. and was part of the medical support team at the 97th General Hospital in Frankfurt, Germany during Desert Storm. His professional associations are many, and his dedication to his profession is exemplary. Timothy L. Hodges is an avid learner; he attends various ophthalmology conferences yearly so that he remains abreast of current and new surgical procedures, eye disease management and eye disease treatment modalities. His desire to be the best in his profession translates to excellent patient care and a state-of-the-art eye care and surgical center. His private practice in Virginia allowed him to meet and treat several well-known politicians, musicians and sportsmen.
Specializes in comprehensive ophthalmology with a special interest in laser vision correction and no-stitch cataract surgery.  He has been doing refractive surgery for over 30 years and has performed thousands of procedures.Timothy L. Hodges earned his medical degree from Ohio State University. He completed his undergraduate degree in Biochemistry at the University of Cincinnati. He served as a flight surgeon before deciding upon a career in ophthalmology. He completed his residency training in the world-renowned Walter Reed Army Medical Center in Washington, D.C.
Among his many professional distinctions, Timothy L. Hodges is certified by the American Board of Ophthalmology, a fellow of the American Academy of Ophthalmology and the American Association of Cataract Refractive Surgery and an active member of the Arizona and Tucson Society of Ophthalmology.
---